Tech News
Welcome to Fabrily – New and free Fundraising tool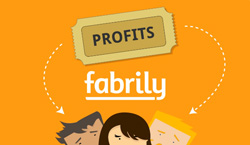 Welcome to Fabrily, a platform that enables you to raise funds and awareness for a noble cause and make this world a better place to live in (plus it is completely free to use!).
In this article you will learn everything about Fabrily and how it works so that when you have an idea for a fundraiser you know the right place to go.
What is Fabrily and how it Works
Fabrily is a platform which enables users to create crowd-funded campaigns which help the raise funds and awareness for their cause. If a person wants to support a charity or work for restoration of a community centre, now tasks like these require some financial assistance. Here is the point where Fabrily helps you. Fabrily spreads your cause with especially designed t-shirts that are comfortable to wear and also do the work they are made for doing.
How to raise money using Fabrily Service
To start your campaign you need to Register on Fabrily.com and submit a campaign request. In this process you will be required to design a t-shirt for your campaign that contains the logo for the campaign you are working on. You have the option to design a T-shirt or allow Fabrily team to design one for you, next you are required to select the material for your t-shirt and at last you have to select the price for the t-shirt.
Once your campaign is live you can share it via email, social media, and encourage your friends and family to also share your campaign. Before move further you must understand Fabrily FAQs and policy.
One your campaign is live you share share it via email, social media, and encourage your friends and family to also share your campaign. For more examples and advice on promoting your campaign you can visit the Fabrily blog.
Also Read : What is GitHub and how it works
It is so simple!Not only do you get to raise funds for your cause but you also raise awareness too. You can also download the Fabrily promotion guide from here.
Fabrily also assists you by checking on the progress of your campaign and providing tools for customers to check on their order (Order Status Tool). Not only this but Fabrily team also gives you advices on how to make your campaign more famous and more profitable. What are you waiting for! Start a new campaign with Fabrily today! Hope the article proves to be helpful to you in your efforts to generate funds for noble cause!