Tech News
Intel Iris Pro 5200 Graphics Haswell complete Specification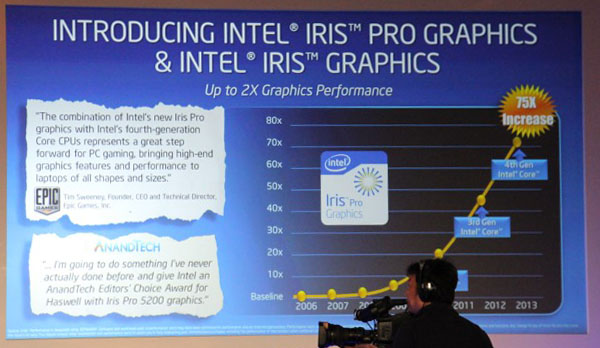 Intel! The manufacturer of world's most advanced technologies. From desktop computers to laptops to mobile phones, whatever the gadget you name it and Intel would have surely manufactured it whether for a long time or a short.
And then came the time when ordinary graphics of devices decreased to impress people so with the increase in resources came the betterment in visual effects of the devices. And so on this article will provide a detailed review of Intel iris pro 5200 graphics, the card giving 4th generation laptops their real popularity.
Intel iris Pro Graphic specifications for Haswell Processors
Intel iris pro 5200 better known as HD Graphics 5200 is a graphic card used in many Core i7 Haswell processors from 2013. With the core and shader speed of 200-1300 MHz Intel iris pro 5200 give the greatest configuration of IGU (40 execution units). Next is that Intel iris pro features an extra eDRAM cache. Moreover Turbo boost tech can now be used to over-clock base clock.
Rates of base clock and boost may vary from processor to processor showing different results on various models of the computers. So if two different models are using the same tech and producing different results we know that there is nothing to worry about except upgrading the device!
Now from an expert's point of view Intel iris Pro 5200 is so immensely customized that its Graphics core is far better in contrast to the HD 4000.
Also the tech easily suits to DirectX11.1 and some latest applications relating to the field. For videos of high resolution like 4k, etc the card has swift sync, and decoding features. Furthermore talking about memory we get a super fast eDRAM memory of 128 MB.
Don't miss : Review of best three 4th Generation Dell Laptops
Also excelling due to its memory Intel iris pro graphics card is believed to be even better than AMDs Radeon and is therefore selected as the best graphics processing unit of the year 2013. Due to the performance games like FIFA 2013, etc can be easily played in very high resolution settings making the experience lively than ever.
And last but not least the best feature that elevates the rank of Intel iris pro 5200 even more is that due to the Tri-Gate process of manufacturing the power consumption is very low in comparison to other units in the competition.
So for a thrilling experience of Intel Iris Pro 5200 Graphics you are most welcome to use Haswell quad-core computers in 47 Watt TDP range.
Hope the article helps you with the best gaming experience of your life. If you're using Macbook Pro or 4th Generation laptops having this GPU then must give us your experience in the comment box.
Also Read : Review of best three Google chrome books