How To
Most Favourite teams for Football World Cup 2014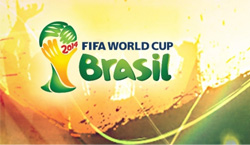 The long awaited Football World cup 2014 is finally here, the schedule has been released along with the groups as per FIFA regulations but these schedules have brought a lot of excitement and the most favourite teams.
To figure out the favourite teams we look at the rankings of last year as well as the players individual performances in English Premier League , Barclays Premier League and La Liga however there are four favourites teams ranked by FIFA football fans all over the world. Spain, Brazil, Argentina and Portugal are the four favourites.
An important point to note here is that in Football World cup 2014 these favours are not only based on popularity but the strength and overall stats for these teams.
 The Defending Champion : Spain
Spain, the defending champions from the last FIFA world cup are once again the favourite for everyone because of Barcelona's favourite Andre Iniesta's performance in the past 12 months.
Hearned him a short-listed candidate for FIFA Ballan d'Or as well as man of the match in Champions League.
Spain having Villa as their forward and Casillas as the goal keeper sure have a edge in Football World cup 2014. A remarkable and worth considering point is that Juan Mata of Manchester United has earned his position in the leagues played and so this gives Spain an even more edge.
Football World cup 2014 host : Brazil
Brazil sure is the host country but that cannot be the reason for its win because they have got Neymar, a well-recognized player from the club Barcelona and known for his performance in La Liga and for his very first El Clasico appearance.
What is even more remarkable that he scored the opening goal for his team aswell as the assistive goal by Alexis Sancchez which made the club win at Camp Nou.
Further Neymar's position inclined when he scored a hat-trick in Champions League against Celtic. In Football World cup 2014 Brazil sure has its advantages with Neymar.
The stars and Backbone of FIFA 2014 : Messi & Ronaldo
Argentina has its finest gem in the form of Messi, the name says it all. A record breaking performance by Messi throughout his football career which brought him the nomination of UEFA Best Player award in a third consecutive year, he will must shows his expertise in upcoming Football world cup 2014.
In the past 12 months Messi has scored four hat-tricks and a two goal win for Barcelona. Nobody can leave out Argentina as a favourite.
Portugal cannot be left behind as the most favourite player of the year Christiano Ronaldo belongs to Portugal football team. Not much can be said about Ronaldo as the FIFA Ballon d'Or for 2008 and 2013 speak for themselves along with this Portugal has a strong squad.
However these are not the only things that have to be kept in mind because a country's match history is as important as its individual precious gems.