Android
Most favourite Play store Apps for Android Tablets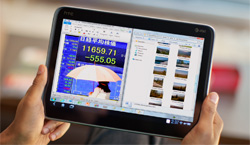 With the increase in tablets of all shapes, sizes and prices the need to have apps has increased as well, hence to find apps that work in your favour is a mess.
Today we bring you apps that are most used not because they are from a renowned company or developer but because they have been entertaining people immensely. So, here are some of the most used Play Store Apps for Tablets,
Top Android Tablet App – Tune in Radio
Tune in Radio is one of my favourites Android Tablet App not because it's a radio but the genres offered in this radio are way too much. Any song, from any era or any artist is available to you and you do not even have to wait for it to play.
Just the regular Wi-fi or the network provided internet will work and you can have any kind of song anywhere, this android tablet app is simply perfect for road trips and in the moment songs and best run on Android Kitkat 4.4 OS.
Stay Updated – NyTimes for Android Tablet
All across the world people have been using NewYork Times website app for all reasons and purposes, not only has this Android tablet App been helping with delivering news from all across the world but this app has been helping people from all walks of life.
It provides news, tips, jokes, cooking recipes, health updates, news from all walks of life.  An all in one best android tablet app where staying in touch with the world turns out to be simply perfect.
Pocket – Most Downloaded Android Tablet App
Another most download Android Tablet App that is used by over 10 million is Pocket. from everywhere that you can possibly imagine, this android tablet App in simple terms helps you save things in one place.
It helps you save videos, photos, articles, news, or any kind of web content that you might want to read later in one place. Simplifying the way you want to browse online material offline and in one place.
Browsing through your entire tablet for videos, pictures and article will not be a hassle any more. Pocket android tablet helps you keep track of all things saved so far so you can have a look and read at your own ease any time you want.