Tech News
Facebook Launches 'Nearby Friends' Location Feature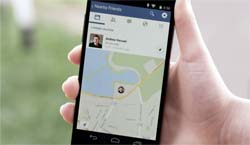 Facebook has once again made a big comeback with its brand new feature called 'Nearby Friends ', it allows you to find out and discover the friends that are near you or around you on the go. The feature notifies you when your friends are nearby so you can meet them up.
It is an easily accessible feature on the locations menu on Facebook, you can turn it on or off and surprisingly it comes with its own privacy statement which means you can decide who gets to see if you are nearby via your friend lists or specific customized lists made by you.
Facebook Nearby Friend locator Feature
Facebook new feature will give you its maximum when your friends also have this turned on in their settings and only then will you get notifications for their location otherwise you will not be able to see who is nearby.
This feature has precise working plans as it allows your friends to see your exact and precise location for a set period of time further making it easy for you to find your friends or for them to find you.
Spend your time with friends and Make Hangouts
As much as it has privacy concerns, it is a great way to make friends actually hangout than just sit behind their screens maybe even calling out for unexpected reunions and spending time with friends.
This is a great tool however it minimizes the privacy concerns when it gives you the option for opting for it or not which means if you do not want to use this feature you can just turn it off.
This features gives you a list of nearby friends showing their distance in miles along with time stamps as to when someone had last queried their location. You get to choose the sharing time of your location along with a personalized message about what you are doing and anyone who shares their location with you will be automatically shown up on your map view.