HTC
HTC One M8 vs Samsung Galaxy S5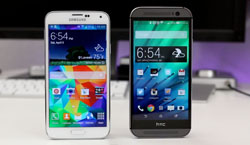 Samsung has hit the markets once again with its Samsung Galaxy S5 claiming to have improved features however HTC One M8 also claims to be a rival for this phone.
Starting with a physical and the most basic difference, on one hand we have the water and dust resistant body of S5 compared with a simple metal body of One M8 as much as this gives an edge to S5, the next feature throws the ball in HTC One M8's court as it has gesture controls and the galaxy S5 doesn't provide this feature.
HTC one (M8) vs Samsung Galaxy s5
In terms of performance both the phones share Snapdragon 801, 2GB RAM which in the real world gives them faster responsiveness and battery life hence equalling out the comparison.
The next feature perhaps one of the most important feature of a phone once again gives HTC One M8 an edge.
The Camera overview
The galaxy S5 as always gives great result with its rear facing camera but when it is narrowed down to performance in low light HTC One has proved to give better results than Galaxy S5.
Also the front facing camera for HTC One M8 is better than the galaxy S5 further the add on extra features for the camera software are great for HTC One while for Samsung galaxy S5, they are not very preferable.
Sound and Speaker Comparison
When it comes to sound and video, HTC has very smartly placed the speakers on the front side of the device as usual giving it a better review although Samsung galaxy S5 has a great and bigger display with perfect saturation and colors.
When it is combined with sound the HTC One M8 gives much better results as the Samsung galaxy S5 has a one mini speaker at the back of the device so for the screen Samsung takes the lead with HD display however in the sound department HTC One M8 cannot be beaten.