Infotainment
Best five upcoming Hollywood movies for October 2014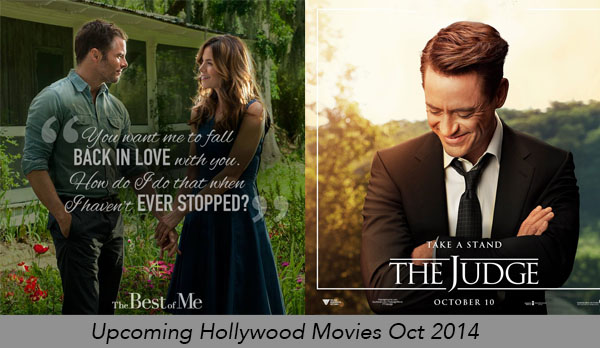 October is almost around the corner and we need to see which movies are people anxiously waiting for, what is the new gossip about and which film is actually creating hype.
October is one of those months where one get's to witness a lot of good story lines and the anticipation for the release is too much to bear. Here we quick review about the top 5 upcoming hollywood movies in october 2014 that you should definitely watch.
The Judge – 2014
Robert Downey Jr, comes with a bang in this drama where he plays the role of a hot shot city lawyer that has to return to his home town. His father played by Robert Duvall is being accused of a murder and Jr, goes on a mission to uncover truth. Along the way he gets close to his family and discovers the bond strengthen again.
Dracula Untold – Upcoming Hollywood Movie
yes, I am a huge fan of this guy myself and as soon as there is a movie on a blood sucking hotty, it's a must to watch. Luke Evans stars as the lead and our very own Dracula, and the big buzz and hype is not about the movie itself but the preparation of this movie.
The project is said to be more complexed than the actual movie and well once it releases we will see what the hype is all about.
The Book of Life – Animated movie 2014
Next in the list of upcoming hollywood movies for october is a animated movie. A very highly expected movie that is about three different worlds, places where he faces fears and his heart's desire. Journeys that will make us all question our paths in life for sure. Reel FX Creative Studios produced The book of life 2014 that is a American 3d animated movie . This adventure comedy film is distributed by 20th Century Fox.
The Best Of Me – 2014
Now, if a vampire movie is a must then a Nicholas Sparks movie is an absolute die for. Yes, we all ladies and men out there believe that this guy knows how to write books that lead straight to your heart and capture those beats that pulse.
This story comes about two college sweethearts who find facing one another after being 20 years apart. Will their love kindle again and will they tie in a bond that never breaks? You will know all in time.
Whiplash 2014
All jazz lovers will be thrilled at this upcoming hollywood movie in october, where a young musician tries his best to become one of the most successful jazz drummers ever. A musical journey that will leave you all breathless.