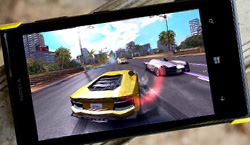 With Windows launching more and more better versions of it's phones there has been an immense need in the apps to match the phone as well. In the older versions which were Symbian phones, the need to have apps was not needed at all. But with the recent popularity of touch phones
Nokia had to step up and deliver the best it could. Windows phone was a whole new level of class and sophistication for its users, from updates to games all was a new experience for the users.
Here we bring you three of the best Racing Games for Windows Phone which not only give you a stimulating experience but also gives you the thrill of playing something beautiful.
AE 3D Motor Windows Phone Game
First on the line is AE 3D Motor racing game which has amazing 3D Graphics to let you have the best experience. The controls aresmooth and the eye catching scenery is simply something to look forward too.
It had amazing game play and very addictive tracks that will make you play the game over and over again.
Rage On Wheels – Racing Game for Windows Phone
Rage on wheels is yet another racing game which works with combat mode and contains 3D graphics along with several other modes.
There are many parts which can be unlocked as you progress on and the ability of perfect crashes that look real life with wipe outs is also available for its users.
Old School Racer Classic Free for WP Racer
Old School Racer gives you the chance to race as fast as you can, with the option to choose from four exciting locations. The tracks are amazing to work with easily handled with the option to ace the game if you get familiar with the tracks.
The medals you earn after winning each stage means unlocking new bikes and new levels. You can then enjoy the game to its full potential.