Blog Tricks
Why my site got de-indexed from Google ? How to fix it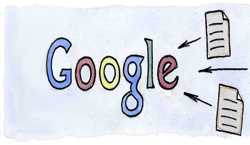 Blogging for new users can be a really bemusing thing, and with all the new updates springing up on different search engines the height of confusions just exceeds its limit. Recently a new blogger faced a problem regarding the de-indexing of website from Google.
In this article you will be provided with details on this problem and the simple solutions on how to fix them.
Allow Search Engine to index
Our first and simplest reason why this could happen is that under the privacy settings of your website panel you would have checked the 'Ask search engines not to index my site' option.
To castigate this go to your privacy settings and check the option 'Ask search engines to index my site'. Now all you have to do is wait untill Google reconsiders your website and re-indexes the content.
Google will not index the Hacked Websites
Our second and rather a very serious reason is that your website is possibly hacked. Hacked website means that your site is under threat and it may contain some inappropriate content due to which Google will decide to de-index your website.Individual hacks require different steps to straighten out the site content.
At this moment,  Sucuri, a very powerful web security tool is all you need. The reason for recommendation of sucuri is explained in the article, 5 Reason to use Sucuri for WordPress security.
Another observation made when facing cases like website hacking include the customization in the canonical url's. However this mostly involves the de-indexing of certain pages, so if one is considering checking the canonical url's, it should only be done for the pages that have been de-indexed.
Always Follow Rules and Policy of Google
The third and most common reason behind the de-indexing of your site can be infringement of one of the many rules of Google. Normally a penalty is given by Google if one's site is caught buying paid links or more. Due to this the specified site is not ranked higher by Google.
However, if you are de-indexed then the most appropriate way is to contact Google using the reconsideration form. Hope the specified information helped you in a better understanding of the reason why your website got de-indexed from Google.