Gadgets
Review of best three Google chrome books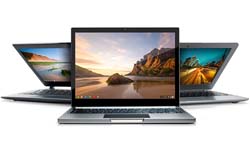 What is a Google Chrome book? For most people this might be a new term but it simply stands for all those laptops which have Chrome OS running instead of windows or Ubuntu, etc.
Many of us are big fans of Google and having an operating system by Google that has Chrome would be just cherry on the top. We would be telling you about the best 3 Google Chrome Books out there.
Google Chrome book by Toshiba
Toshiba too many is not a brand well recognized but once you use it you will see the difference yourself. Toshiba chrome book is made for all the budget holders who want money saved, and efficiency doubled. It's not decked out to be something from Prada or Chanel, but it charges in less than what the usual time is required. Has the usual Bluetooth, Wi-Fi, a 16GB solid drive capacity, HDMI output, webcam, dual core baby that is one of its class.
Google Chrome book HP 11
Smooth and efficient is the name we will give this little doll, this Google chrome book HP 11 is the envy of companies like Apple, Samsung, etc. as for something small it has big reliability votes. This Piano white doll has an Exyons processor with the speed of 1.70 GHz. Laced with LED backlight technology, Bluetooth, webcam, Wi-Fi and an 11.6" screen.
Specification of Samsung Chrome Book 2
Hands down these second generation Samsung Google chrome books 2 are the best and are giving their competitors a tough time. They are coming in 11 & 13 inch screen sizes, and a faux leather finish. Talk about class and setting a standard. They have an octal-core Samsung's Exynos processor with sub processors.
They also come with official Google Hangout permission and certifications, which only means dual array microphones are built in. A 4GB RAM, 16GB storage, webcam, HDMI, Wi-Fi, USB ports, SD card slots are simply the perks that make this candy sweetest of all.
Also Read : Samsung Galaxy s5 with Android Kitkat