Blog Tricks
Essential email marketing tips for Beginners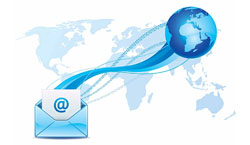 Email marketing is not as easy as it looks, there is a way to hit an inbox a way where your subject title makes the maximum impact it can. Mostly what email marketers do is spam the inbox of hundreds of people which in end results in the email being sent in spam.
Now, I am sure most of you out there do not want to do this. So here are 5 tips that will help you be a success at email marketing.
Essential Tips For Email Marketing
To understand email marketing and how the actual email is delivered to an inbox, now this may seem like information you can do without but the thing is that it is actually important. Once you understand the process of how an email reached an inbox, why we enforce you know. The answer is simple, so you design your email in a way that no filter hits it before landing in an inbox.
Always use Responsive style in Email Marketing
HTML, as we all are familiar with it is the language the email talks in, it's like a conversation but in a different language. With the growth of mobile technology, people now check their emails on their phones more than their laptops or desktops. So you need to keep in mind the result your email will give on a phone.
Email marketers must focus on statistics
Now, we are not starting a maths lesson here but we are talking about email statistics, which simply mean that a data is collected at the end of every month on how many emails were opened, closed, read and deleted.
Now you should have this data with you at all times so you can analyse to keep improving.
Also Read : How to use Reddit for generating Traffic
Learn marketing and email Fundamentals
Here the important thing to keep in note is that all email marketers are from as different backgrounds as day and night. So getting an ROI will not be easy unless you learn marketing and email fundamentals.
Yes, going back to basics always brings up clues as to where does the problem lay and what can you do to solve it.
Keep the privacy of your followers
P & S stand for Privacy and Security, so we know there are many privacy and security policies for every domain that always pop up and stop you from email marketing. So, being updated on the latest is very essential, because if you are not your energy and time both will be wasted to nothing.
Also Read : Best 3 movies that Entrepreneurs must watch