Samsung
The First Look – Samsung Galaxy Grand 2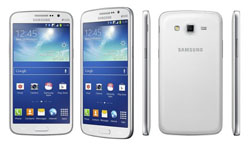 Proving their name will rule hearts all across the globe, from expensive Tech phones to something simple for the common people comes Samsung Galaxy Grand 2. A rumour did spread that may be the Samsung Galaxy Grand 2 might not be able to live up to expectations as many 2's don't.
But the great part of being Samsung Galaxy Grand 2 is that it did live up to it. Initial reports have been amazing with the processor, touch screen, camera and especially the size and look of it.
Have a look at Samsung Galaxy Grand 2
The Samsung Galaxy Grand 2 comes with a 5.25" screen which gives bigger display and does not add up to the weight of it, or the size of it. The resolution much to everyone's shocking has gone to 720p, and the pixel is a very eye pleasing 280ppi. Now a faux stitched leather is also available at the back, and you can now have sophistication added to the Grand 2.
Check now : Samsung Galaxt S5 Full phone Specification
Among the key features the Samsung Galaxy Grand 2 has
Quad Band 3G
Dual Sim  with 3G data feature
Android Jelly Bean 4.3
Quad Core 1.2 GHZ Cortex-A7 CPU
1.9 MP front camera with a 8.0 MP Back
8GB of built in storage for your files and games
Bluetooth, Stereo, FM, USB port
High power 2600mAh battery
Samsung Galaxy Grand 2 with No Kitkat
Now even though the Samsung Galaxy Grand 2 is a top notch for the masses with limited pocket change it would only be fair to point out the 3 main disadvantages. Out the box only 5GB built in storage is available, no KitKat at the launch and very reflective screen that annoys the eye.
Also Read : What is interesting in Android KitKat 4.4
But being fair I would mention the battery that has improved immensely and totally supports the Quad Core. The price which is not at all high than everyone expected it to be, starting from 250 it goes down to 160 pounds, so you have the option of selecting this from any price range.
 image courtesy by samsung.com