Tech News
Provide office efficiency with telemarketing dialer equipment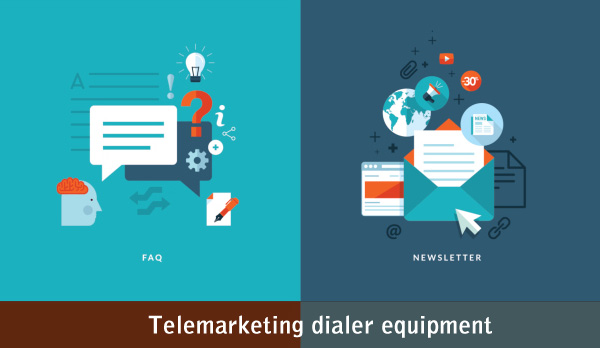 It's true that technology has become such an integral part of our lives that boredom in the workplace has essentially been kicked to the curb.  This fact is increasingly true where telemarketing dialer professionals exist, considering the efficacy of dialing interfaces has grown tenfold in an ever so short period of time.
It's with these facts we present an interesting account of how telemarketing dialer equipment can not only increase productivity, but also eliminate unneeded downtime for agents – a costly downtime, that is.
What every telemarketing dialer must possess
Before establishing proper telemarketer decorum, we should first reveal what today's telemarketing dialer equipment should possess. Because without proper equipment, your agents will flounder.
Any business-centric telemarketing dialing interface must offer the operator two very integral features: an API interface where system integrations can easily be implemented and updates can seamlessly reach the equipment, and the ability to provide some means to simultaneously dial numerous phone numbers.
Since nearly all current telemarketing dialers offer advanced computer networking, all connected voice boards can easily be scaled up due to their fixed number of ports, or scaled down based off call center size.
Using 100+ megabit connections and 1-2 servers, an average sized business seeking lead generation or follow-up calls should be able to simultaneously call 2000 numbers without having to overload their servers or distribute calls to more ports.  Older systems, of course, mimicked large switchboards that many have seen in older films.  Call dispatching programs offer complete control over these telemarketing dialers, also known to some as distributed dialers.
All told, agents are consistently kept busy because when the system isn't dialing numbers, agents are wrapped up with clients trying to solidify the sale or send the lead further down the funnel.
Ensuring your agents are kept busy and performing their tasks efficiently with a telemarketing dialer is only as effective as the dialer chosen, so make sure you've taken all brands into account before requesting any elucidations regarding which is best.
Telemarketing Dialers help minimize data security
Lead generation is one major function that telemarketing autodialing interfaces aim to perfect. With the rise of technology, newer areas within security risk are emerging such as effective ways of storing data securely in the cloud. In the same breath, the ability of tracking all aspects of data from the number of attempts one tries any given phone, to how important information files are being accessed, is vital.
Therefore, it goes without saying that today's telemarketing dialer equipment will all have API's that favor heavier encryption than archaic dialers that had no interface whatsoever.  When choosing the proper system for your agents, leverage the amount of data that will be stored simultaneously on your local drives with other sensitive caller data, then choose the dialer that performs the securest.
An efficient telemarketing operation requires agents that understand Federal do not call registries, individuals that are savvy enough to either close sales or channel leads to the next salesperson, and equipment indicative of forward-thinking businesses like yours.  Choose wisely, my friends.
Also Read : How to Format personal data before selling a Smartphone