Tech News
Windows 10: The best features you need to know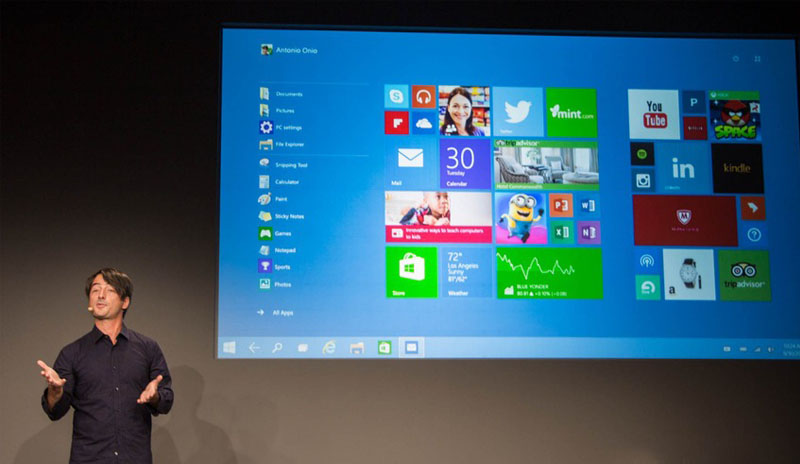 Microsoft finally announced that now we are going to experience windows 10 the best windows of all in coming months. The new windows 10 is going to be a very exceedingly resplendent experience for the windows users.
Microsoft authorities claimed it to be the best window so far. Joe Belfiore the vice-president of Microsoft windows asserted that the new windows 10 is offering more frequent updates earlier but less polished software.
User-friendly Interface for Windows 10
The first action we do when we log onto any window or when we install the window is to check the start menu. In windows 8 it was removed but now in windows 10 you are going to get the start menu feature back! Working with this familiar feature would definitely be a very exciting and pleasing experience for the users.
Windows 10 is a concentrated and polished version of windows 8 and windows 7; with outstanding new improvements, balanced layout and super familiar user's experience.
It particularly includes the space where you can personalize your recently visited apps, your favorite apps, website and people. It is the collaboration of the characteristics of Windows 8 like app tiles and the start menu option as in Windows 7.
Search option is also included in windows 10 now. It is on both, in the taskbar and in the start menu. The best thing about this feature is now you are going to have best results of your searches from inside your PC as well as from the web.
Hundreds of Official Apps for Windows 10
The chief feature of windows 10 is the Windows app store. You are going to have a brand new exposure to a bigger and wider screen which is specially designed and upgraded for the tablet users now the apps will work for all sort of PCs including with or without the touch. Now with Microsoft Windows, you are going to open the App store as you operate your desktop programs.
They could be resized and moved from one place to another on the screen. And also now they could minimize. Maximize and close with a single click.
A new astounding feature is that now you can have a quick access to your open ups in just one click on the windows.
Windows 10 is now going to suggest you regarding the placement of your opened apps snapping. You can add and snap up to 4 apps on the home screen while doing a task. Isn't it the real fun of multitasking? This could be a blessing for the business individual as well as for the educationists who have to work on diverse projects at a time.
Microsoft Technical Preview for Windows 10 developers
If you're interested to keep your hands open on Windows 10, then Microsoft give you an opportunity for you. You can download Windows Technical preview and sign up for an account on Windows insider program. For more details visit Windows Technical preview.
A neatly organized screen is always a wish for the ones who are habitual of doing work in a disciplined manner.
Users will have a direct access to the windows feed backup from which the users can send the comments to the Microsoft team directly. Wish you to operate the magnificent windows 10 soon.