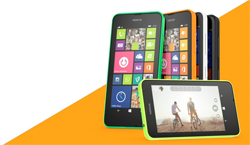 Windows in smart-phones! Microsoft users were enthralled to hear that they would be able to use their favourite windows phone 8.1 OS on their smart-phones too. And with time due to the support of these users, this day, Microsoft has announced a new Windows 8.1 update for the smart-phones. This article will present some of the features Windows phone 8.1 is equipped with.
What Improvements made in Windows Phone 8.1
To start there have been massive improvements in the applications of daily usage. However, the first thing to be discussed is the start screen background that shapes the whole look of the OS giving it the very essence of its elegance and beauty. Next come the changes made to the phone and contacts application which consist of sorting the contact list, accessing full call information, in-call speech commands and more.
Also Read : Samsung Galaxy s5 with Android Kitkat
Afterwards, there have been slight improvements in the messaging feature as enabling or disabling notifications from a single thread. Now also in SMS feature is available emoji (emoticons) when typing. For power saving the improvement made is to check which application requires most battery power and making the recommended changes for maximum power saving.
Protect and backup your files with Windows Phone 8.1
Considering that most parents use their mobile-phones to quite their children the Windows phone 8.1 features Kid's Corner where you select the apps and the kids are barred from going any further, this protects your important files. Also for keeping your business interests safe the 8.1 comes with lock protected Office and One-Drive backup so that you never lose track of your business.
Adding to this the e-mail application has also been improved with new syncing options and more. Windows phone 8.1 also consider your rest and features Quite Hour so that no notifications interrupt your sleep for a specified period.
Also for keeping you up to date all the time Windows phone 8.1 has a Google calendar and it also keeps your social life well managed with well integrated Facebook application and a new browser. And last but not the least it keeps your life cheerful with a new camera lay-out and exciting new camera modes for pictures of your requirement. Update to Windows 8.1 right-away and experience a change like never before.
Also Read : What is interesting in Android KitKat 4.4