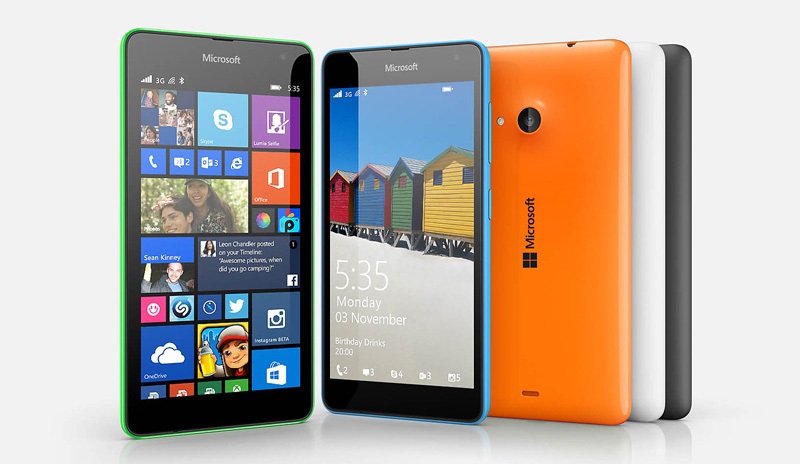 Microsoft Lumia 535 is the latest version of Lumia by Microsoft and its one hell of a phone and the reviews on this one have been quiet superb.
Why we call it superb is that because its Nokia's attempt to bring up a budget phone for all its loyal customer base.
All the problems that were faced in Lumia 530 have been changed and Microsoft Lumia 535 has all that we needed in 530. To begin with the 4" inch screen has been replaced with a 5" one which is quite the upgrade that was needed.
Microsoft Lumia 535 Dual Sim Overall review
LED Flash: In latest Lumia 535 Dual Sim, the manual focus camera has also been replaced with the auto manual LED Flash camera and its one creative and detailed upgrade.
Camera: The camera is 5MP and that is the front camera we are talking about. There you go all Selfie lovers something to look forward too and enjoy taking those self-admiration images.
Design: Next up, lets talk about the design and features of the Smartphone. Design is sleek and the changeable covers give you option to choose from a wide range.
Colors: Each color to match a dress or seven colors for seven days maybe? The matte options are amazing to go with and though some fitting issues may occur but eventually you settle with price option given to you.
Screen Size: Now when it comes to the screen it is bigger than before but as soon as you tilt the phone the image is distorted badly. The resolution is 220ppi is not what everyone was expecting but with this much of price nothing more could be done.
Touch Type: Now the size, colors can be over seen but the screen sensitivity to touch is something that can not be ignored as Microsoft Lumia 535 struggles badly in this area. Microsoft Lumia 535 Dual Sim struggles to get the apps open as major complains were against it only.
In short words when we want to sum up our review for Microsoft Lumia 535 we gather that a large 5" screen is upgraded, a high resolution wide angle front camera has been added and the covers for Microsoft Lumia 535 Dual Sim are interchangeable.
When it comes to the cons Windows Phone, In Microsoft Lumia 535 Dual Sim the battery life is pretty short and the unresponsive screen puts you away immediately.
Microsoft Lumia 535 was suppose to  be good both on the pocket and touch but alas, Microsoft Lumia 535 somewhat disappoints and somewhat satisfies a lot.