Android
What is interesting in Android KitKat 4.4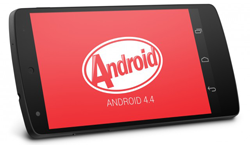 With the latest deal signed among Google and Nestle, the latest android devices have become much tastier and the Nestle KitKat chocolate, more innovative! Yes! The new Android KitKat 4.4 OS has once again made this software the leading one in the smart-phone industry. This article provides a detailed review of the new OS King in the market.
To begin the Android 4.4 is packed with lots of features and improvements that make it stand apart from other competitors. And with super-fast processing, and the new bold and stylish look it makes your experience better than ever. The new look of Android KitKat 4.4 is much more decent and elegant with clean lock and home screen and the tone gradient seen on the notification bar and bottom of the screen.
What inside in OS Android KitKat 4.4
However, the main highlighting improvements are seen in the 'Call' tab, messaging, productivity features, internet facilities and gallery. On the top is the new management of the call directory and contacts making everything clear and well managed. Secondly, the messaging option is well integrated with Google Hangout. But still you have a track of the threads of both features separately.
Android KitKat 4.4 with Quick Office App
Next is the improvement in 'Quick Office' application where you have the liberty to view pdf files and use all Ms.Office features in one place. This helps keep all your work in one place and just a touch away. Also, the new Cloud Storage makes this even better. With this also comes the improvement in Email facility where you have well managed content in separate folders for each.
At last another interesting addition in android KitKat 4.4 is the new appearance of the photo application with the option to make short movies using photos and enjoy the interesting new photo editing effects.
Lastly, the thing that gives Android KitKat its reputation is the compatibility of this OS. According to a report Android KitKat is very likely to perform perfectly on low hardware devices comprising 512 MB RAM. This provides benefits also with the updating of devices that are long forgotten carrying Ginger Bread. So convert to Android 4.4 KitKat today and enjoy.
Also Read : Samsung Galaxy s5 with Android Kitkat