Tools
Best Free fonts Resources for Designers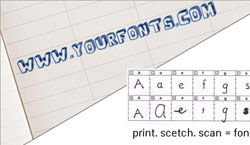 Who knew that Steve Jobs attending Calligraphy classes at Stanford would really be of some importance someday? It is right that he attended calligraphy classes for fun but it was some years later that those classes resulted in the introduction of first ever designed and stylish fonts in the tech-world.
Nowadays free Fonts carry a lot of importance in a number of fields in the computer industry. One such job is writing Blogs! Writing 1000+ words with no amusement would surely result in reading without any amusement too, and this is really bad for Bloggers who depend on their work for portraying their skill.
So, this article will therefore introduce to you the top 5 websites where you can find free Fonts for your blogs.
Free Font Provider – Font Squirrel
Font squirrel is the best free font provider and most visited and trusted site over the internet. The team has done all the hard-work hand-picking the most popular and easy to use free font styles and converting them into easier format for your convenience.
Also the site gets updated with latest work overtime. For premium fonts and bundle packages the site provides valuable discounts and offers that are worth spending your time and money. Review at : Font Squirrel
Redefine Font Styles – Acid Fonts 
Horrifying by its name yet being a very important site in the bloggers community, this site provides a wide range of free fonts. The styles vary from graffiti to official and elegant fonts. No registration whatsoever is required.
However, it is recommended that you please read the Pc help or Mac help before downloading any content based on the device you are using. For more information please visit: Acid Fonts
Get Free Fonts – Dafont
Sounding a little Funky yet constructed to completely fulfill its purpose Dafont is a site worth using. Dafont provide its users with a collection of more than 24,000 free fonts. Also the site mentions all the fonts under specific categories making it easier to find the free font one is looking for.
Also the site provides with the option to share your own font styles with the world by a quick registration. For more assistance on selecting or downloading fonts visit: DaFont
Font Space
Providing from a collection of over 23,400 fonts Fontspace is a popular website in the font business. The fonts mentioned are from a number of categories. Also some of the free fonts are from very famous designers. Like Dafont, this free font  website also allows signing up for a free account and sharing fonts if you are a designer.
However, the extra features include saving your favorites and adding comments to others' work. Full information and work on: Font Space
Font Freak
Clearly understandable by its name Font freak is a very user friendly site. With over 400 different designers portraying their work and over thousands of fonts to choose from Font freak is a must. There are over 9,000 free fonts and over 125,000 paid fonts. The most extraordinary thing is that new fonts are updated nearly every day.
Also the fonts are specified under certain categories. Also the site recommends registering up for latest updates. More information on: Font Freak
Hope the article proved to be very helpful.