Tools
How to use Windows Live Writer Tool for blogging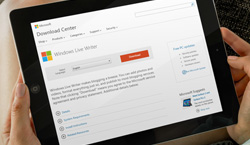 Bloggers, we know how you are inspired all the time and how you need something manageable with you on your devices all the time. You never know when might inspiration strike you and when might you need a handy tool to write there and then.
Now trying out different apps means that you might have had enough to go on and there might not be available anything that might help you. But like I say that there are so many tools all over the internet that all you need is to settle down and just chose the best. Now, I took the liberty of doing that for you and came across Windows Live Writer Tool.
What inspires me the most about Windows Live Writer tool is that to begin with its from Microsoft, a trust able source for any app after Google, secondly I knew for sure that Microsoft usually comes up with tools that actually help you rather than be a glam doll.
Features in Windows Live Writer
Windows Live writer tool not only compacts the blogger life into a single mode but also helps them with the options available. Some key features of Windows Live Writer Tool are
Adding images and tags has never been this easier before, also effects can be added to the images.
Different blog sites are also linked to this tool so posting to several sites is much easier.
An offline copy is saved for you to edit or read later
an online preview is also shown of all your posts to that before posting you know where to edit.
In Windows Live writer, you can save all posts offline and then login through your regular device to post immediately. Several editing options are available for you to choose from. The tool is available in both online and offline modes for you to choose from.
Now with a Windows live writer tool like this which has editing options along with all the blogs linked to it, who would want to use any other software. Windows Live Writer tool not only saves you time but is also efficient when it comes to your precious words.