Gadgets
Unleash true Experience – 4th Generation Toshiba Laptops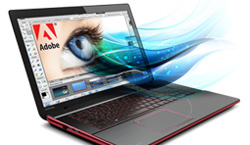 Toshiba has introduced the new 4th Generation laptops for the year 2014 which are the amazingly efficient and smooth in running. This not only proofs that Toshiba is making sure it works with the latest but also works on its style and class as well.
Here we are introducing five best of the best 4th Generation Toshiba notebooks which are perfect when it comes to machines that run efficiently.
Toshiba Tecra Z50 – The Desktop Replacement
Toshiba Tecra Z50 is one of the best elite Ultrabook by Toshiba for high class professionals who needs a laptop in replace of desktop PC. Toshiba Tecra Z50 comes with Intel 4th Generation series and a high class 4GB DDR3 Graphic memory that can support upto 16GB because of its 2 memory slots. This 4th Generation Toshiba elite Ultrabook has a comfortable backlit keyboard, ClickPad, Accu Point and Gesture features.
Now comes up to Toshiba Tecra Z50 specifications, High Definition 15.6" Widescreen TFT  and a screen resolution upto (1366×768) LED backlighting , 4Gb DDR3 RAM, 500GB 7200rpm and a High Definition Webcam , Tecra Z50 is the complete portable Desktop replacement.
Toshiba Qosmio X70 – Extrme Gaming and Entertainment
Qosmio X70 is the latest 4th Generation Toshiba Laptop and well known because it gives a unleash entertaining and gaming experience and you can enjoy the latest technology and graphics on its 17.3″ Full High Definition Widescreen that supports up-to 1920 x 1080 screen resolution.
With Toshiba Qosmio X70 you can experience some serious video effects on its Blu-Ray burner and theatre sound on its four DTS Harman/Kardon built-in speakers. Spice up your gaming taste with Toshiba Qosmio X70 that has Nvidia® GeForce® GTX 770M 3GB (GDDR5) Graphic card, 32 GB DDR3 Ram and HDMI supported. With Lithium 8 cells battery your work will unstoppable and you will never disappoint on the battery issues.
Toshiba Satellite L50 – 4th Generation Toshiba Notebook
Toshiba Satellite L50D comes with AMD Quad Core A8-554 Processor which is high speed accelerated, it also has a Turbo Core technology with an L2 Cache. Operating systems range from 8.1 to 8.1 Pro and RAM starting from 4GB to 16GB on DDR3 is available to choose from. Hard disk also comes from 500 GB minimum to up to 1TB.
Other features of  Toshiba Satellite L50 include Blu Ray Disc, a 15.6" inch HD TruBite LED Flat Screen, 1 Year Standard warranty, antivirus, Ms Office trial, HDMI cable, adapter, a lithium battery and HD webcam.
Toshiba Satellite P50-ABT3G22
From the P series we bring 4th Generation Intel Core i5-4200U Processor and Turbo boost technology. Toshiba Satellite P50-ABT3G22 has Operating system Windows 8.1  and memory ranges from 4GB DDR3L to 1.5 TB and Blu-Ray.
Office 365, comes with a one month trial and anti virus from Norton. HDMI cable and port along with HD webcam, Wi-fi and Bluetooth.
Toshiba Satellite P50-ABT3N22
Another P series gem is the Toshiba Satellite ABT3N22  which is again a 4th generation i5 with turbo boost technology from up to i7. Windows 8.1 is available and a memory from 4GB to 16 is available, RAM is HDD 500GB to 1.5 TB in Hybrid series. Blu Ray disc, with 1 year warranty, one month trail and other similar features like the P series.
We hope you enjoy these 4th Generation Toshiba Laptops that not only work well with the new upgrades but also run efficiently giving you amazing results.
( image source : www.toshiba.com )