How To
Best five PlayStation 4 Games of 2014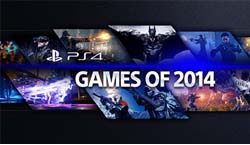 November 2013 brought the world to a halt with the release of Play Station 4, 24 hours later a staggering million units were sold and by the end of 2013 4.2 million altogether. So, naturally the games are going to be nothing less than the best. So we bring you the best five PlayStation 4 games of 2014 for you to enjoy.
Best 5 Games for PlayStation 4
Child Of Light: Now we know they do not make them like they used to, but you have to give credit to this new game. Amazing level ups with an actual difficult game play where you are forced to use your brain to make sure you succeed.
The game is announced to be on the top games of this year for PlayStation 4 as it almost gives you the cringe to be in the game for real.
Basement Crawl : A very weird game to be exact but that's the beauty of it as well, the game will be played online and locally.
A twist to the straight game is present where you destroy unsuspecting people simply for the joy of it. If you are a PS4 lover then must try this game as single or multi player with your friends. You surely enjoy it.
Also Read : Review of Best Three Google ChromeBooks
Day Light Play Station 4 Game : For all those who want an unrealistic approach to the game while having a good game play. Daylight is the game you should be opting for, simply because it plays psychologically on your mind giving that thriller effect which you cannot deny.
The best part no weapons but a simple cellular phone with a flash light to save yourself. Talk about having a game that gives you the kicks.
Alien Isolation : The new game of Aliens for PlayStation 4 is one of the coolest games so far hence it is at the top of the line.
The game not only has new features and weapons to play with but is also a beautiful recovery of the previously failed Aliens Colonial Marines 2013.
Deep Down PS4 Game : 5th but the most interesting game for PlayStation 4 is Deep Down, the game started all those dungeons and dragons and demons into the gaming industry.
So this takes the demons onto a whole new level. Imagine having to log onto the game every time and finding that the dungeon you played on last time is not this one or maybe it is. They are generated randomly and give you a new experience at every turn.
Also Read : What is Interesting in Android KitKat 4.4