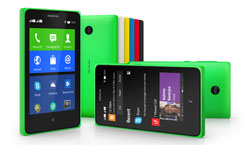 Latest in the market Nokia X is taking the world of phones by storm with its colours, style and efficiency. We will be talking about this new baby of Nokia and telling you about all the specs there are, the talk in the market and the reviews people are giving it.
The hype about the phone is that it's the only Nokia phone which runs Android on it, but does not mean it's like every other android phone. Surprisingly, Nokia X does have Google services running on it but instead Microsoft and Nokia's own which is not something people would be looking for.
Nokia X – The Semi Android Specs
It's in other words a blend of Asha & Lumia combined together. Now the Jelly Bean version is 4.1 but it's not been acting like it so far, the word is that a low price system has been placed which hangs up occasionally and is also creating numerous other problems too.  Though the key features included are
Dual-Sim support
512MB RAM
4GB Internal storage
Nokia Radio with the phone's own FM
Wi-Fi
3.15 MP Camera
USB charging/port
But then these are what normal Nokia phones have as well, so the disadvantage Nokia X has is when it lacks complete Google facilities, front camera, smart dialling and document reader. Nokia should have seen this coming as with the world of Android phones everyone has everything on the tip of a touch.
With Nokia X failing to provide necessary items on the Android version, the consumers and even loyal Nokia customers are disappointed immensely. The biggest issue consumers have is the lack of Google services on X. In order to create a phone that does not go heavy on your pocket
Nokia failed to produce a phone that would work well with everything. High expectation were held from Nokia on finally releasing an Android phone but things didn't settle well in the market with Nokia X.