Health
5 ways to live active and healthy life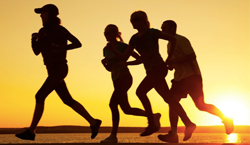 There are people who work out daily, twice a week maybe and remain fit no matter what, healthy life and stay active to them is important and vital. Then there are those couch potatoes who hate moving even a finger until necessary. I, unfortunately am one of those people who will not move until it's important. So, what do I do about my healthy life ? It's pretty simple, rather than forcing myself everyday with no heart, enthusiasm and energy into a workout routine. I decided to take it slow, a day at a time not punishing myself and making health look like a burden.
The secret of Happy Life
I am writing for of all those people who think exercising is tough, hard, and it will simply tire you out without giving you immediate results. I have a simple process called "Feel It, Do It" if you want to enjoy healthy life, which means if you feel like working out you should do it. Now, all the experts out there would never agree with me and would end up calling me some random name.
Before that happens let me assure you that while some of us are strong willed some are not. It takes time for some people to adjust to something and accept something, like working out for their healthy life.
I am not saying there is a way out or a short-cut to shedding pounds or looking and feeling healthy but for some people we need to make them adapt the change at their own pace.
Know yourself – The best tip for healthy life
First you need to talk to yourself, a little pep talk in front of the mirror will help you amazingly. I hated it when someone from my family popped up randomly saying " You should see into therapy, or you should seriously start thinking about yourself".
Now if they were blessed with bodies that take on fat and digest it or evaporate it does not mean I was too. A little pep talk to your self will simply boost your confidence, next step choosing exercising that will help those parts that need to be reduced first.
Like the tummy, thighs, double chin, etc. Once you have browsed through the internet, with everyone saying this is the perfect exercise you get confused as what to try. No worries, relax it's all fine.
Those exercises work for most people as they have little fat to melt; we need to something different to keep enjoying healthy life. Again, no shortcuts simply exercises that affect the body fat quickly. So buckle up people, in my next article I will be helping you by telling you about those exercises. Stay Confident, We can make it!