Android
Most playing Football games for Android Gamers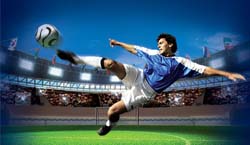 Football games have there own attraction for any Android phone users and it is not possible to find a phone without a game, and there are many genres of games, as well. But there is only one genre that has been ruling the hearts and minds of hundreds across globe and that is Foot Ball.
From Ronaldinho, Ronaldo to David Beckham users wants to try all sorts of football games to enjoy the sensation of being in an actual game. So we bring you the best 5 football games for Android.
Now talk about a complete game that gives you many incentives packaged into one, Real Foot Ball 2013 is developed by Game Loft that are one of the most reliable and fastest growing developers in the world of Androids.
The game has beautiful smooth graphics, no pix elated images, and an ever smoother transition of players across the screen. This game is developed by top Android developers and till now it has 350,000+ downloads.
Although this will cost you some money but believe me, you will love spending every penny on this one. This game is a real beauty with its cartoonist characters and comes in four modes of pure game play. It's available free as well but well why not pay some bucks to get some real fun?
Attracting over 20,000+ users the game brings you free kicks and practice mode to brush up you're virtual skills at football. Beat the Goalie, Cross the Ball, Sudden Death mode Beat the Wall, Beat the Clock and enjoy this game in three different modes including arcade mode, practical and bullseye mode.
GameEvil. Inc brings you the best of soccer and by the best we mean the best. The game has 5 different modes; you can customize the players and buy extra power ups and free kicks. Soccer Superstars is most dynamic and impressive game on play store.
A addictive football game that has millions hooked to it simply because you get free kicks all the way, just keep kicking and kicking and kicking. Curving the ball, editing levels and playing with other players. All in one game.
Also Read : Samsung Galaxy S5 reviews and Specification