Blog Tricks
How Pro Bloggers earn money from their blog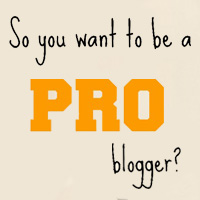 When I tell people that I am a blogger, I often get shocked expressions from people. While it seems like a pretty easy, routine task to me, seems like a task out of the ordinary to many people. There are a number of misconceptions that people have regarding blogging and the skills that one must possess in order to be a successful pro blogger.
There are countless times when people have plenty of information that can be of great use to others, however, they hesitate to share this information on the blog because they feel that blogging is something only people with certain very specific traits can do. The biggest misunderstanding regarding pro blogging is the fact that people who post their information online have to have some very technical expertise in order to be able to succeed in their business.
Tips to become a Famous Pro Blogger
Today, I will dedicate this entire post in order to clarify this ambiguity that is present among a number of people.
If I speak of my own experience, till present day, I try to avoid any technicalities that are involved in the process of writing content that has to be uploaded online. You see, I am not someone who is very fond of computer technology; for me, being able to use certain programs on my computer to be able to produce some content is good enough.
The most advanced things that I probably do involve marketing my content. However, that is pretty much it. If you ask me if I am a computer genius who knows all sorts of computer languages and complex algorithms, I will simply tell you that I don't know any of this stuff. Despite this, I am a regular, very active pro blogger.
Need of  knowledge for a successful Pro Bloggers
I have managed to get sufficient knowledge about search engine optimization and keywords. I can make my blog attractive and ensure that I manage my stats effectively. However, I have not required extremely technical knowledge for my work.
Coming back to the point; the misconception that people can only be bloggers if they have technical knowledge in the field of IT is merely a myth. Of course, one needs some technical knowledge. However, this knowledge does not have to be acquired immediately; one can learn one step at a time. There are numerous bloggers who are good at such things and constantly post regarding them; the help of their work can be taken. Finally, there are certain things that can be outsourced; remember, you can never be a master of all trades.
These were just a few tips that I thought could be of use to you in order to clear out the misconception regarding the technology involved in pro blogging. For more such tips, keep visiting the website!