Blog Tricks
Hostgator: Black Friday Deals November 2019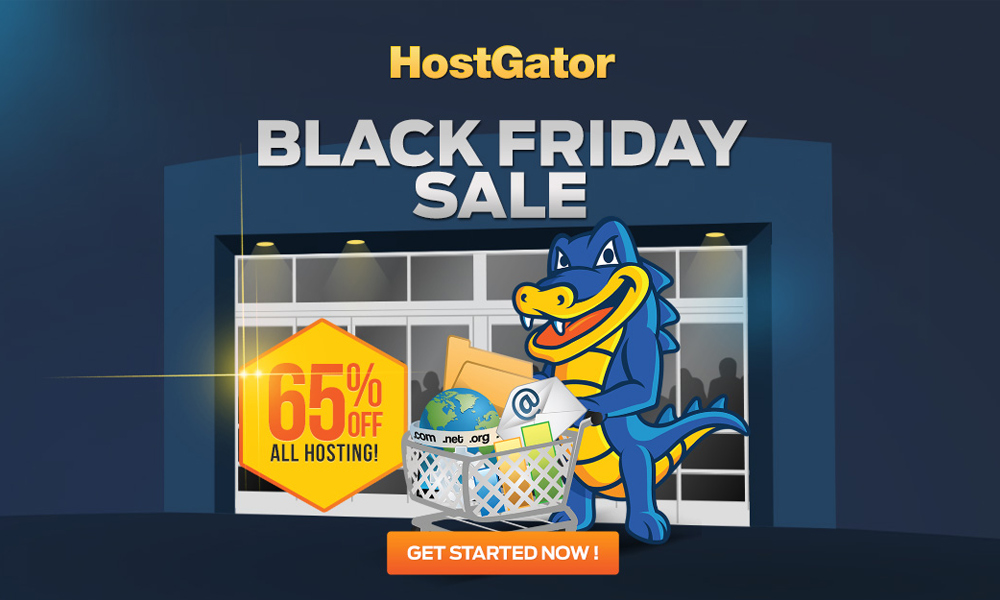 Founded in 2002 by Brent Oxley Hostgator is an internationally renowned Web Hosting service provider with innumerable plans and services related to the field and today we come up with best Hostgator review.
From the main categories like dedicated, shared, VPS, and reseller hosting plans you can select the one for your requirements.
Hostgator was founded in 2002, got its first 100 customers in 2003. In 2006 they opened an office in Canada Toronto and relocated from Boca Raton to Houston.
Then in 2007 after its foists blogpost taking a global step Brazil gets a new office. Finally after opening of Austin office in 2010 Brent Oxley announced EIG acquisition in 2012.
Hostgator Review: Plans & Packages
In our Hostgator review, first we would like to mentioned Plans & Packages. Hostgator provides seven hosting plans that are as follows:
Shared: You can select from the hatchling, baby or business plan to host your site. All at affordable rates.
WordPress Hosting: Exclusively for WordPress fanatics choose from blog, business or pro plan and enhance the capabilities of your WordPress site.
Resellers: With this plan you can earn too. Buy from a variety of top end plans and host as you are being hosted.
VPS: Virtual Private Servers give you full control over your server, the difference only is the package you choose.
Dedicated: Choose from Windows or Linux servers to dedicatedly enhance your business in no time.
Application: Select from application centered hosting providers like Drupal, Wiki and more.
Windows Hosting: Especially dedicated for asp.net sites and more for the Windows related.
Hostgator Review: Shared Hosting
Hostgator's shared hosting plan features a number of incredible tools. Developing the website is easier than ever now that you get a quick install facility and a full functional feature-full site with the weebly as your managing partner with its drag and drop builder.
On the application side you get loads of compatibly existing software and applications as Hostgator runs on Linux, Apache, MySQL, and PHP.
Mainly you get WordPress, Joomla, Drupal, Magneto and other exciting hosting options. In our Hostgator review we found the best combinations are Drupal, Joomla CMS, Magneto Ecommerce, and phpBB forums and more.
Hostgator WordPress Hosting Review
Dedicated mainly for the WordPress developments this type of hosting lets you manage all the tiny and large feature that you website possesses and is capable of presenting for the utmost performance of the site.
In Hostgator review, we found that some of the main features in Managed WordPress Hosting include super speed with upto 2.5x times faster, easy to use programs with auto update feature that lets all the previously installed updates and security features get easily updated to the new versions for extra convenience and smooth administration.
Most importantly get unordinary security and an intelligent site with modifications as per client demands, and not to forget is the 24x7x365 customer support you get.
Hostgator VPS Hosting Review
In virtual private hosting service you get root access to your site and you can customize your site to the full as your business grows or you want to perform any other modifications.
You can choose from semi to fully manageable VPS plans. Install and edit any software you like for optimizing your hosting tasks. All servers constitute 32-core AMD processors with 128 GB Ram and a slick 3.6 TB RAID 10 storage.
In our Hostgator review we found in technical specs you get unlimited, domains, subdomains, email accounts, databases, FTP accounts, weekly off site backups, free site builder software, private name servers, fully managed control panel and guaranteed full root access with an outstanding and award winning client support that remains by your side 24×7 all year round. So select Hostgator as your hosting provider.
Hostgator Black Friday Deals
In the United States Black Friday is observed on the day following Thanksgiving Day and is the fourth Thursday of the November.
Black Friday is increasingly being practiced all round the globe and many retail outlets entertain the customers with highly modest discounts on this day.
Cyber Monday is a marketing term used for the first Monday after the day of Thanksgiving in the United States. This term is well used by the most Ecommerce site to promote people on shopping online to avail huge discounts and promote online shopping.
Hostgator Black Friday deals also available this November 2015 and their offers will be the best ever Hosting deals ever provided by Hostgator.
Hostgator Black Friday deals starts from Friday, November 27th 12am CST to Monday November 30th 11:59pm CST.
There will be also a flash sale with huge discount on all hosting plans and domain purchase and we will update this page accordingly. We will update this page and deals throughout the weekend so you can avail these offers and join hands with