Apple
Apple watch will be the next viral wearable Smartwatch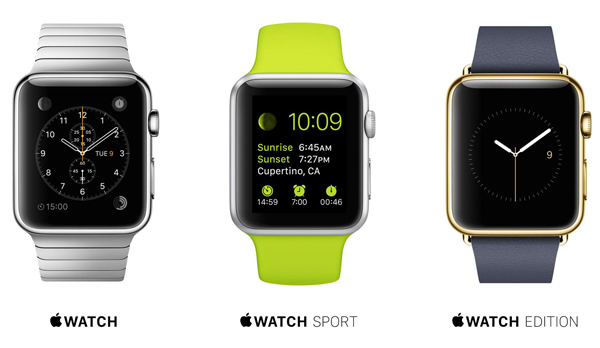 The CEO of Apple, Tim Cook had an announcement on Tuesday revealing "one more thing" and the thing was a Apple Watch. In short, we can say it a little computer in hand. It is going to be the most viral apple product so far. This is the most personal device Apple have ever made.
According to the CEO, We love to make technology more personal and allow our users to do things they never imagined.
The most amazing thing about Apple Watch is that it can browse the web, handle emails, allow you to read books on it and even allow you to watch movies. Not only that but it is also providing its users with a new dimension that is "device to device" protocol. The communication level through this tiny device will be thorough and easy as opposed to Professional.
Apple Watch styles in three Distinctive collections
Apple strives to provide you with the most classy and stylish products different from the entire range of similar category. Apple Watch is entirely unique in its kind and reflects a vast range of stylish inclination. It is available in three different styles. Choose the one goes with your personality as it is available in stainless steel cases which is a range of stylish brands and of sapphire crystal.
The sport watch is anodized aluminum cases in silver available in different colors featuring Strengthened lon-X glass. The watch edition Sapphire crystal for the executive class made up of 18-karat gold. Keeping that in mind that everyone owns a different style, it is available in two different sizes, 38mm and 42mm.
Some valuable features of Apple Watch
The former wearable gadget by Apple simplifies apps and Siri to our wrists, it beams messages, update us about Facebook and all what we desire in it. It includes iMessages, keep us updated about the weather, capture photos, make us able to make video calls, and many more. It also has fitness trackers and health sensor apps which make it different than any other gadget.
Battery life
It is believed that Apple watch will approximately have one day battery life. However, Apple is working on modifications to improve the battery life of their gadgets.
The Digital crown
Digital crown is actually the home button of Apple Watch. It replaced the pinch to touch technique used in iPhones and MacBooks. This crown also helps user to zoom into apps, your location on Apple maps and photo galleries. This knob is handling the stop watch timer and scrolling through the dates.
Your Fitness companion
In other features some interesting ones are sharing your heartbeats with your loved ones and light messaging on the wrist is also its bizarre sketch function. Apple Watch is your fitness companion and whenever you feel lazy the fitness function activate and energize you to do some exercise or relax your mind.
Apple watch will come with a Retina display and its high pixel density will gets your whole attention and easy to read number and texts.
With the help of sensitive touch of Apple Watch you will get any information at ur finger tips, the notification feature will keep you updated what next in your schedule. Let's wait for this unbeatable gadget.
Also Read : Google analytic application for iPhone iPad and iPod touch